Location: Tel-Aviv, Israel
Background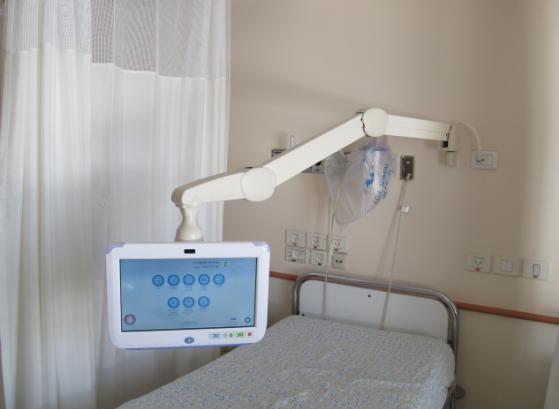 Clalit Health Services was founded in 1911 by a group of 150 immigrant workers who joined together to form a mutual aid health care association. From these humble roots through dedication and through many challenges Clalit has grown into Israel's major health organization, and one of the most progressive public health associations in the world. The association consists of 14 hospitals and more than 1,200 primary and specialized clinics providing advanced medical care, pharmaceutical services, dental clinics, laboratories, diagnostic imaging, and specialist centers to more than 3,000,000 members. The hospital launched a project to offer modernized patient infotainment services to patients in seven of their hospitals, replacing existing TV rental systems. The goal was to continue to provide television services but also expand offerings to include internet access and voice over IP. They planned to monetize the service, thus creating additional revenue streams for the hospital. The hospital requirements called for reliable and rugged systems that were affordable and had medical certifications.
Solution
Clalit Health Services turned to Telepharm Ltd., the largest integrator and supplier for TV rental services in hospitals throughout Israel. They provide customized software and a strong hardware support network. Telepharm worked together with Dangot Computers, Ltd., a Tel-Aviv-based distributor of Advantech medical and mobility products and a system integrator, with a nationwide chain of resellers and technical support for this large project. After a long evaluation period, the hospital selected the Advantech PIT-1502W on the basis of ruggedness, performance, and medical certifications, as well asbeing available at a reasonable cost. The PIT-1502W is a 15.6" multi-function touchscreen patient infotainment terminal with Intel® Atom™ N450/D510 processors. It is certified with both ITE and medical dual-certifications (EN-60950 & EN-60601-1), and it provides reliable, fanless, dual-core performance.
System
Advantech's PIT-1502W has already been installed in three of the hospitals for the Clalit Health Services Association. Over 1,000 units are in use at Rabin Medical Center, Hasharon Medical Center and Kaplan Medical Center, and the hospital is following a three-year roll out plan to install a total of 4,500 units. PIT-1502W offers the hospital a myriad of possibilities including Wi-Fi, RFID (for positive identifications), handset, Smart card reader, and two megapixel webcam.Ithas the capability of providing TV, movies and computer games on a subscription basis, thus creating revenue streams for the hospital association. The IP65-rated, medically-certified PIT-1502W is easy to clean, designed with a slim, non-obtrusive form factor that supports VESA mounting, and features isolated I/O connectors.
Benefits
The hospital is happy with the Advantech PIT-1502W systems, and the roll-out continues on schedule. They have cited several reasons for the success of the installation:
Cost-effectiveness
Future capabilities for application expansion based on customized software
Durable and rugged design, which is fanless and space-optimized
Modernized infotainment solution that adds revenue to the hospital group
Advantech's reputation and know-how combined with local partner support
In the future, Dangot Computer has a plan to bundle its custom application software together with Advantech's PIT-1502W Patient Infotainment Terminal for use in other international markets. For more information about the PIT-1502W or Advantech Infotainment solutions, or other Advantech products and services, please visit www.advantech.com or contact a local sales office.